Personalised Pin Badges
Produced in limitless shapes, styles and finishes to match any budget. With many different packaging options, Personalised Pin Badges make great promotional and fundraising items.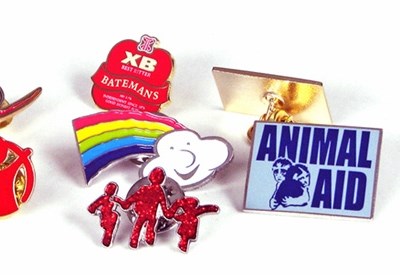 Personalised pin badge manufacture and design
Alan Salter supply badges of the highest quality, with many Personalised Pin Badges for the Charity and Funraising Sectors, Not for Profit organisations, and for promotional use, businesses, clubs or societies. 30 years experience in the UK market.
We can provide initial design for our personalised pin badges, or you can send your own designs through.
Standard processes include Hard Enamel, Soft Enamel, Photo Etching, Printing, Stamping.
Our personalised pin badges can also be manufactured and plated in gold, silver, gun metal and there are many differing textural finishes - Sand Blasted, Satin, Antique.
Fill in the form above if you would like to send us an enquiry or call us on 0845 060 3636.